OUR MISSION STATEMENT
Under the patronage of the Blessed Virgin Mary and in the power of the Holy Spirit, we the beloved family of God at Holy Rosary/St. Marys are dedicated to living the gospel of Jesus Christ. In the strength of our worship, teaching and service we strive to be loving and supportive people reaching out with compassion and understanding to those in and beyond our parish family so that we come to be known as Christians by our faith and love.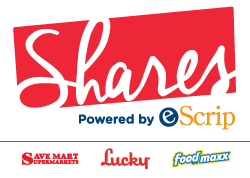 Save Mart S.H.A.R.E.S. program has ended March 31st.  A new program called eScrip has begun April 1, 2016.  Each individual must now sign up on line by clicking on the link to the left.  Sing up for free with the phone number you use at checkout when you shop at Save Mart, Lucky or FoodMaxx Supermarkets.