Registration for our upcoming Vacation Bible School closes on WEDNESDAY, May 24th at 11pm!
Vacation Bible School will be held the week of June 5th through 9th from 5:45pm to 8:30pm.  This is a family-style event where parents and siblings are ALL welcome!  Children ages 5-11 who register will receive a VBS T-shirt AND lots of goodies throughout the week!  Each evening will include Mass, a light dinner and LOTS of VBS fun!!
Click on the link to sign up today!!
Visting of the Sick/Homebound
Fr. Isaque has re-initiated this important ministry to take place on Fridays after morning Mass.  Anyone who is not able to come to Mass and would like a visit from Fr. Isaque or a Eucharistic Minister are asked to call the office with their information. Help is needed for this ministry. We ask any existing Eucharistic Minister who wishes to help to call the parish
Portuguese Bible Study
Portuguese Bible Study takes place on Thursdays, at 6:30pm in the Chapel of the New Church. All are invited and encouraged to attend.
Renew yourself Spiritually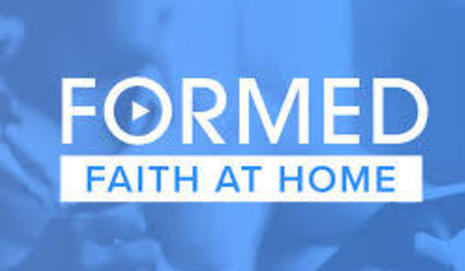 Watch, listen and read.
Anywhere, anytime.
FORMED provides the very best Catholic content from more than 60 organizations to help parishes, families and individuals explore their faith anywhere. Supporting thousands of movies, children's programs, eBooks, audio, parish programs and studies direct to your browser, mobile or connected device.
This app/subscription was purchased by the parish and can offer many resources to your family. As parishioners you can access it for FREE!
 Registering for FORMED is easier than ever:
Click on the link above
Select your parish by typing in Holy Rosary Hilmar
Register with your name and email address
Check that email account for a link to begin using FORMED
Annual Memorial Candle
Purchasing an Annual Memorial Candle in honor of a loved one or for a special intention is a wonderful way to remember your loved one while supporting the parish and beautifying the sacred space of our church. Your memorial candle by our Lady of the Rosary or St. Joseph's statue will "burn" for one full year in honor of your loved one or your special intention.
A plaque displaying the name of your intention will be mounted in front of each candle.  And will remain for one year.
OUR MISSION STATEMENT
Under the patronage of the Blessed Virgin Mary and in the power of the Holy Spirit, we the beloved family of God at Holy Rosary/St. Marys are dedicated to living the gospel of Jesus Christ. In the strength of our worship, teaching and service we strive to be loving and supportive people reaching out with compassion and understanding to those in and beyond our parish family so that we come to be known as Christians by our faith and love.